for Domestic and Cryogenic
Insulation with Polyurethane Foam
COLD STORAGE
Pakistan Insulations (Pvt). Limited has started insulation with Polyurethane Foam for Domestic and Cryogenic use since 1995. It has insulated numerous cold rooms, cold boxes for fishing boats and other cryo genic applications
COLD STORAGE SOLUTIONS
Storage at low temperatures prolongs the shelf life of many foods. In general, low temperatures reduce the growth rates of micro-organisms and slow many of the physical and chemical reactions that occur in foods.
Freezing and frozen storage provides an excellent means of preserving the nutritional quality of foods. At subfreezing temperatures, the nutrient loss is extremely slow.
Cold room allows precise regulation of temperature and humidity and maintenance of constant conditions by use of a refrigeration and ventilation system.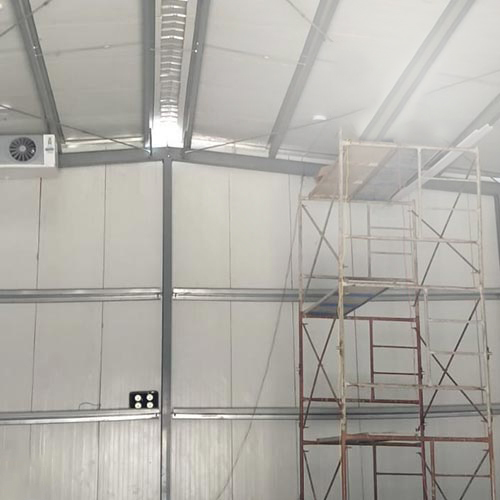 LGSS & Wall Partitions
Pakistan Insulation (Pvt) Ltd offers a wide range of non-load bearing light weight partition systems. These partition systems can be implemented in the design of any types of building including residential housing and apartments, commercial and industrial properties. These light weight partition systems are designed to offer high performance to meet the most demanding fire resistance, sound insulation and height requirements.
Pakistan Insulation (Pvt) Ltd offers quick and simple seed of installation constructed from high quality components, our partitions are guaranteed to perform. Our light weight wall partition provides satisfaction and reassurance in knowing that these components have been comprehensively tested together to ensure their performance and that all our support extends from concept to site.
Light Gauge Framed Steel Structure (LGFSS) is based on factory made galvanized light gauge steel components produced by the cold forming method assembled as panels at site forming structural steel framework of a building and varying roof, wall and floor construction.
Light Steel Frame members can also serve as both primary structures and secondary structures. An example of the Light Steel Framing used as primary structures is the webbed steel trusses. Steel studs act as secondary structures by providing lateral support to exterior wall finish since they rely on the primary structure for support. Applications
Restaurant and Food outlets
Centralized Kitchen Facilities
Hospitals, Pharmaceutical Application (Clean room, Operation theatre, Pharma stores)
Hypermart, Supermarket, Grocery outlet
Logistic warehouses
Central Distribution centers
Processing cooling solutions
Food Processing Plants (meat, poultry, dairy and dairy related products, fruit and vegetables, juices, pulp, concentrates, bakery, biscuits, wafers, ripening chambers).
Refrigerated Mobile Trucks
Our reliable insulated vehicle bodies are based on proven and well-researched technology and construction techniques. The average refrigerated body consists of six individually insulated panels that are reinforced with embedded steel frames to give maximum strength and durability. All outer corners and edges are protected by specially extruded attractive aluminum profiles. Temperatures can range from +15°C to -20°C. Rigid Polyurethane sectional wall, roof and floor elements are built. Thoroughly reinforced & weather sealed opening is provided in the front wall for refrigeration units. The internal floor is of a high-grade chequered aluminium finish plate or aluminium extruded profiles laid over reinforced panels covered with WBP plywood (marine plywood optional) Truck bodies are available to suit pickups, truck, van, trailers and semi-trailer (up to 40ft long.) Truck bodies are supplied with doors manufactured individually to meet each client's specific requirement. This includes everything from double leaf rear doors with 270 degree opening to single leaf doors or side hatches. All doors are fitted with top quality European and American stainless steel hardware & provided with PVC strip curtains to reduce infiltration up to 50% during loading/unloading. Pakistan insulations Pvt Ltd could supply the vehicle cold storage bodies with both Electric & Forced air systems, depending on the client's requirements.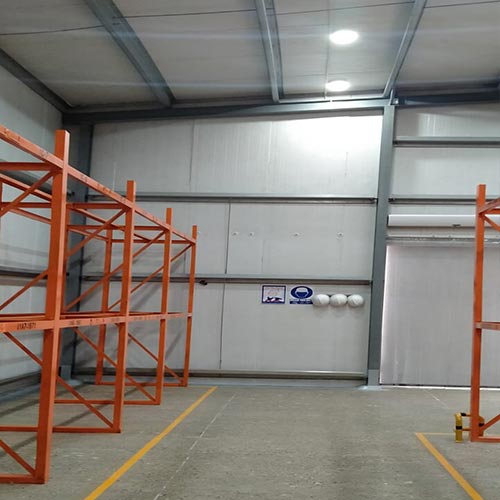 Common mobile refrigeration applications include
Inventory Overflow Storage
Commercial Kitchen Remodels
Food & Beverage Distribution
Farming, Agriculture & Ranch Storage
Produce
Chemical Supply & Manufacturing
Seafood Wholesale
Resins & Polymers
Field Research Storage
Environmental & Geotechnical Projects
Medical, Biomedical & Pharmaceuticals
Hotels, Restaurants & Caterers
Vaccines
Porta Cabins
Pakistan insulations Pvt Ltd also supplies the porta-cabins specially designed to meet various client's requirements for following applications;
Factory-built skid-mounted portable cabins
for instant accommodation upon delivery. Electrical wiring and fixtures, drainage, sanitary ware and pipes are pre-connected to their respective inlets and outlets built in skid for ready coupling to external supplies.
Site-erected, re-locatable modular accommodations
Fast assembly & dismantling of modular building components supplied in knockdown form for short or medium-term accommodation. These structures offer the advantages of occupying very little space when dismantled for transport & storage. Electrical, drainage and sanitary pipes are pre-built in panels. Sanitary ware and electrical fixtures are prelocated in our factory into their appropriate panels for easy removal and fitting. Precut profiles and fixtures are fully recovered upon dismantling of building since no permanent fixing devices are used for assembly.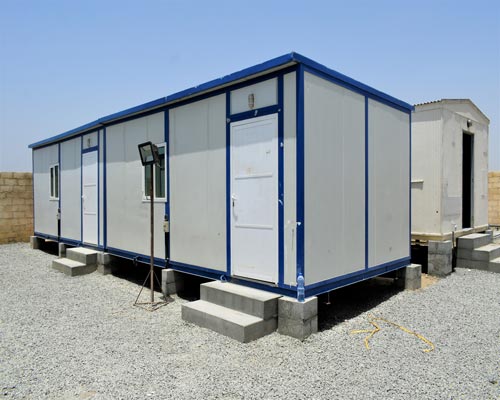 GSM CABINS
Factory fitted or site erected GSM cabins have the same fine finish as that of refrigerated truck bodies. These cabins are specially designed & built to undertake rough weather conditions & mechanical stresses. To achieve this, special reinforcement is provided in the walls, ceiling and floor panels. GSM cabins could also be supplied with the necessary accessories like air-conditioning units, standby generator sets, intelligent alarm systems & electrical connections as an option.
1) Roof of building structure.
2) PU sandwich panels Cold Room Ceiling.
3) PU sandwich panels Cold Room Wall.
4) Reinforced concrete floor.
5) PU boards for floor insulation.
 6) PVC air vent pipes embedded in concrete Slab.
 7) Sliding Door.
8) Loading / Unloading Dock.
9) Refrigerated Van.